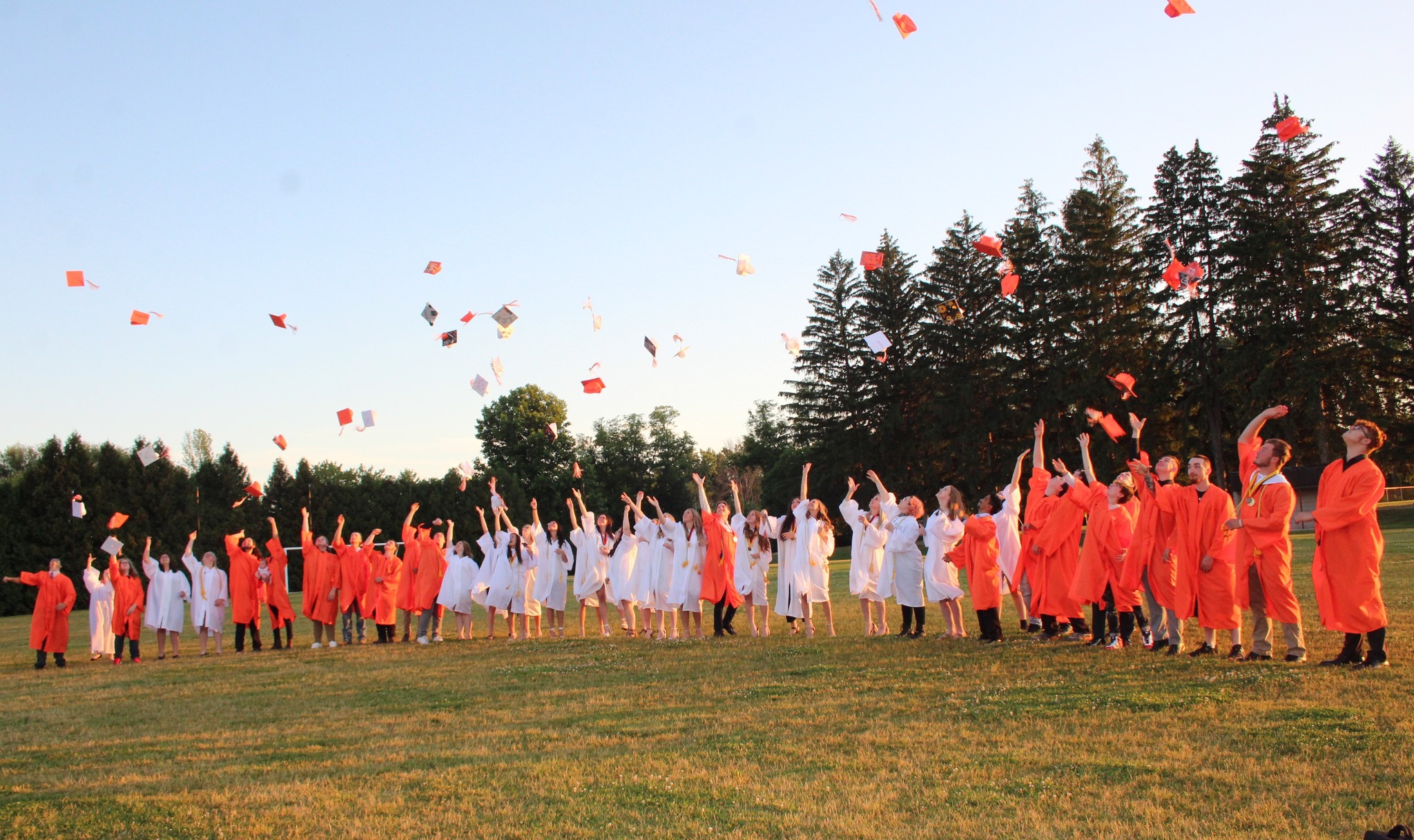 Welcome to the Jr./Sr. High School, where the students and staff are committed to working collectively to create an instructional environment where success is the only option. We are fortunate to have the services of a dedicated, talented, and experienced team of professionals that are well prepared to meet the needs of our students and help them to achieve higher expectations. A constant priority in our work involves the process of creating and maintaining a safe, welcoming learning environment that allows us to build bridges that enable our students to access ever more rigorous content. It is our mission to make learning vibrant, exciting, relevant, and applicable. It is our goal to make sure that each of our students feels welcomed and valued at school.
As of June 2017, our graduating class crossed the stage with a 98.5 cohort graduation rate- the highest of any high school in the county, one of the highest in New York State, and one of the best in school history. Our students owe much of this success to our belief in them. I believe we can also attribute a portion of this victory to the systems that provide multiple opportunities for success- the IST/RTI process and interventions such as Academic Center, PACER, Twilight School, and WICOR workshop. Further, our ELA results at grades 7 & 8 were significantly above the county wide average (47% vs. 31%). That is a truly remarkable feat and I believe that effective reading and writing instruction across the curriculum, as well as our ongoing work with the American Reading Company balanced literacy system are key antecedents of this success.
We have also recently updated our approach to student management and support to increase our focus on mental health, prevention, restorative response, and character education work. Moreover, to help increase students' ownership of the assessment process we are implementing quarterly, schoolwide GPA analysis sessions after the release of each report card.
Our parents and guardians realize that today's learners are digital natives. Our school technology team has been working within the District Smart Schools plan to develop a 1:1 device initiative. As part of this initiative, each teacher has been issued a Chromebook to facilitate their professional learning and increase your readiness for this process. We have also fully implemented Gmail accounts for all students and staff, as well as access to the Google suite of educational apps including Drive, Docs, and Classroom.
Our staff is committed to helping each and every one of our students achieve success!
| Grade Level | # of Students |
| --- | --- |
| Grade 12 | 38 |
| Grade 11 | 32 |
| Grade 10 | 36 |
| Grade 9 | 38 |
| Grade 8 | 43 |
| Grade 7 | 50 |
Lyndonville Jr./Sr. High School offers a comprehensive high school program that includes a strong college preparatory program, and offerings in art, business, family and consumer science, music and technology.
Foreign language instruction is available in Spanish beginning in 8th grade.
Electives are offered in both academic and vocational subject areas.
All Regents level Earth Science, Biology, Chemistry and Physics courses include an additional laboratory period every other day.
Qualified students may begin high school level mathematics in eighth grade.
Advanced placement courses allow students to gain a head start on college level studies. Advanced Placement courses include English Language & Composition, English Literature & Composition, Calculus AB, Statistics, and US History.
Beginning and Advanced level vocational courses are provided through cooperative programs with Orleans/Niagara BOCES.
To graduate from Lyndonville Central School District, a student must meet all of the requirements specified in the regulations of New York State, including successful completion of all required Regents exams.
Course and credit requirements:
| Course | Regents Diploma | Regents Diploma with Advanced Designation |
| --- | --- | --- |
| English | 4 credits | 4 credits |
| Social Studies | 4 credits | 4 credits |
| Mathematics | 3 credits | 3 credits |
| Science | 3 credits | 3 credits |
| Art/Music | 1 credit | 1 credit |
| Health | ½ credit | ½ credit |
| Physical Education | 2 credits | 2 credits |
| Language Other Than English (LOTE) | 1 credit | 3 credits |
| Electives | 3.5 credits | 1.5 credits |
| Total Credits | 22 credits | 22 credits |